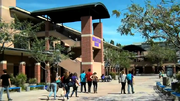 Weirdness At Webster is the 8th episode overall of Elite ANT Force.
Plot
When the gang finds Mr. Grundy as principal at Webster, they all move back and the original ANT Farm reopens. However, when a strange new student named Ricardo arrives, a series of paranormal incidents happen, such as encounters with ghosts, students disappearing, and Cameron losing his memory to the point that he can't remember Chyna moved to Z-Tech, so he returns to the school. Is this new kid connected to all these incidents? And why?
Cast
Main Cast
Jake Short as Oliver Quimby and Fletcher Quimby 
China Anne McClain as Chyna Parks
Bradley Steven Perry as Kaz Duncan
Sierra McCormick as Olive Doyle
Kelli Berglund as Bree Davenport
Paris Berelc as Skylar Storm
Recurring Cast 
Mateus Ward as Ricardo
Aedin Mincks as Angus Chestnut
Jamie Denbo as "Ms. Demon"
Dominic Burgess as Zoltan Grundy
Stefanie Scott as Lexi Reed
Carlon Jeffery as Cameron Parks 
Bonnie Morgan as "Ghostlana" and Svetlana
Claire Engler as "Ghostlet"
Trivia
This episode is similar to the ANT Farm episode, "Feature PresANTation" due to the ghost theme and featuring Cameron.
This is Cameron's 2nd of 4 appearances in season 1.
Ricardo is very similar to Marcus from Lab Rats, as he has a very suspicious personality.

In fact, both Ricardo and Marcus are played by Mateus Ward, although Leo Howard later assumed the role of Ricardo.

Oliver and Olive break up after Skylar suggests their relationship could be causing these things.
There is an unfinished novelization of this episode: