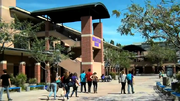 Weirdness At Webster
is the 8th episode overall of
Elite ANT Force
.
Plot
Cast
Main Cast
Recurring Cast 
Trivia
This episode is similar to the ANT Farm episode, "Feature PresANTation" due to the ghost theme and featuring Cameron.
This is Cameron's 2nd of 4 appearances in season 1.
Ricardo is very similar to Marcus from Lab Rats, as he has a very suspicious personality.

In fact, both Ricardo and Marcus are played by Mateus Ward, although Leo Howard later assumed the role of Ricardo.

Oliver and Olive break up after Skylar suggests their relationship could be causing these things.
There is an unfinished novelization of this episode:
This is the first episode directed by soemone other than Chase McFly, in this case, Susz13.