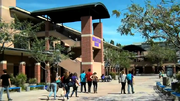 Weirdness At Webster is the 8th episode overall of Elite ANT Force.
Plot
When the gang finds Mr. Grundy as principal at Webster, they all move back and the original ANT Farm reopens. However, when a strange new student named Ricardo arrives, a series of paranormal incidents happen, such as encounters with ghosts, students disappearing, and Cameron losing his memory to the point that he can't remember Chyna moved to Z-Tech, so he returns to the school. Is this new kid connected to all these incidents? And why?
Trivia
This episode is similar to the ANT Farm episode, "Feature PresANTation" due to the ghost theme and featuring Cameron.
This is Cameron's 2nd of 4 appearances in season 1.
Oliver and Olive break up after Skylar suggests their relationship could be causing these things.
There is an unfinished novelization of this episode:
Ad blocker interference detected!
Wikia is a free-to-use site that makes money from advertising. We have a modified experience for viewers using ad blockers

Wikia is not accessible if you've made further modifications. Remove the custom ad blocker rule(s) and the page will load as expected.