The Claw Prank Repetition is the 5th episode overall of Elite ANT Force.
Plot
Oliver, Angus, Young Fletcher, and Young Jesse realize the only way to defeat The Eliminator and save their friends is to team up with young Kaz and young Oliver so they can get to Caldera to find Hapax the Elder, the man whom The Eliminator calls the only guy who can remove her powers in the whole universe!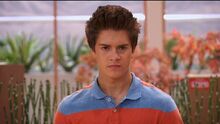 Special Guests
Devan Leos as Hapax the Elder
Augie Issac as Kakai-Rata-Hee-Haw-Mwuaak-Floopy-Pa-zoing
Trivia
Ad blocker interference detected!
Wikia is a free-to-use site that makes money from advertising. We have a modified experience for viewers using ad blockers

Wikia is not accessible if you've made further modifications. Remove the custom ad blocker rule(s) and the page will load as expected.