Theresa Perry is the current owner of
PerryTech Technology Center
. She was such an aggressive teacher to the talented students, Terry closed the school branch and the kids went to
Webster High School
. Since then, Terry has been portrayed as a joke character, like Gibson from A.N.T Farm. She retains the crush on
Douglas
she has had since Lab Rats.
History
Terry grew up in the tunnels of Centium City. She lived with her sister, Sarah Perry, who was born 10 years before her, and her mother, whose name is not known. Terry was somewhat adventurous as a kid, a strong supporter of the hippie movement. Terry was quite loyal to her sister, serving as her bodyguard in some cases. They often had eyes for the same guys, a bit challenging for both girls.
Alternate Reality
In the alternate reality, cat-hating Perry served as her sister's security officer, secretary, and caretaker. She was also protective of Carter Davenport. She was the one in charge of the Decycling plant, and it was her job to throw bad people into reconditioning.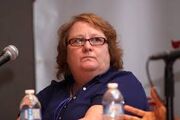 Ad blocker interference detected!
Wikia is a free-to-use site that makes money from advertising. We have a modified experience for viewers using ad blockers

Wikia is not accessible if you've made further modifications. Remove the custom ad blocker rule(s) and the page will load as expected.