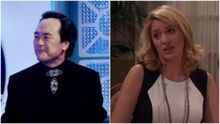 Krashing Krane is the 19th episode overall of Elite ANT Force.
Plot
When the Elite ANT Force finds that Bridget has reformed Dr. Gao after they rescue her, they begin a huge battle with Gao-Krane to force Krane out of Gao's body. Meanwhile, Angus, Chase, and Tina do job interviews- for people they already know!
Trivia
Ad blocker interference detected!
Wikia is a free-to-use site that makes money from advertising. We have a modified experience for viewers using ad blockers

Wikia is not accessible if you've made further modifications. Remove the custom ad blocker rule(s) and the page will load as expected.