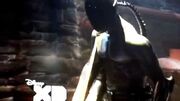 How The Mighty Med Have Fallen is the 4th episode overall of Elite ANT Force.
Plot
When Olive goes evil back in 2014, Oliver, Angus, and Chase need young Fletcher and Jesse to help them stop her, while also keeping history on its rightful course. However, things become complicated when The Eliminator, as Olive starts calling herself, kidnaps Chase and Young Skylar to turn them evil.
Trivia
This episode refers to and uses archival footage from the Mighty Med episodes, There's A Storm Coming, How The Mighty Med Have Fallen, and Mighty Mole.
It is revealed that a natural talent can combine with a superpower to create a hybrid power. Olive combined her memory talent with Oliver's power transference as Memory Replication, and also absorbed super-smarts from Chase's body so she could place Chase's memories in her body.
Neither China Anne McClain nor Kelli Berglund appear in this episode.
This is the first episode to air in the series' set year of 2017.
Olive is portrayed by Morgan Benoit while donning the Annihilator outfit. When she appears unmasked at the end of the next episode, she is again played by Sierra McCormick. This is because Morgan Benoit was unavailable, so Olive took the mask off instead.
Ad blocker interference detected!
Wikia is a free-to-use site that makes money from advertising. We have a modified experience for viewers using ad blockers

Wikia is not accessible if you've made further modifications. Remove the custom ad blocker rule(s) and the page will load as expected.