Girl Meets Elite ANT Force Whenever is a three-way crossover between Girl Meets World, "
Elite ANTS: Talent And Power Island
", and "Best Friends Whenever".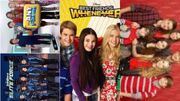 Plot
Special Guest Cast
Trivia
This is the second time Paris Berelc and and Rowen Blanchard work together, the first being the movie "Invisible Sister", where Paris played the titular role.
It was a bit awkward for Bradley Steven Perry and Sabrina Carpenter to work together, being exes in real life.
Like the episodes "Oliver Joins The ANT Farm", "Double Trouble", the "Skylar Gets Her Powers Back Story Arc" and "High Ropes", this episode was originally based on Chase McFly's dream.
On August 2nd, 2017, a few days after this crossover aired, BFW got renewed for a third season after a seven-month hiatus.
This is the first appearance of the Girl Meets World Characters since their show ended 6 months before this episode aired.
This is the first appearance of the Special Theme Song, Take On The Elite ANTS Whenever.
Ad blocker interference detected!
Wikia is a free-to-use site that makes money from advertising. We have a modified experience for viewers using ad blockers

Wikia is not accessible if you've made further modifications. Remove the custom ad blocker rule(s) and the page will load as expected.