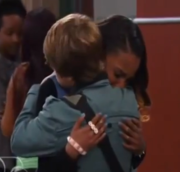 Flyna (Fl/etcher and Ch/yna) is the friendship/romantic pairing of Fletcher Quimby and Chyna Parks. Many people don't believe that love at first sight exists, yet that however is the story of Fletcher Quimby. Fletcher fell in love with Chyna the instant he saw her when she joined the A.N.T. Program in transplANTed, the first ANT Farm episode. They are currently boyfriend and girlfriend.
Ad blocker interference detected!
Wikia is a free-to-use site that makes money from advertising. We have a modified experience for viewers using ad blockers

Wikia is not accessible if you've made further modifications. Remove the custom ad blocker rule(s) and the page will load as expected.