Escape To Talent And Power Island
is the 18th episode overall of
Elite ANT Force
.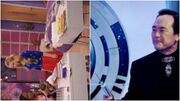 Plot
The Elite ANT Force members, new superhero kids, and array of prodigies are just settling in after Gao-Krane has had a brief disappearance. Suddenly, the evil villain returns, knocks out the team members, and brainwashes Bridget into revealing her secrets. The entire academy teams up to rescue Bridget, and stop Gao-Krane once and for all. However, a violent storm and some staff member mix-ups prevent them from accomplishing their journey.
Trivia
Ad blocker interference detected!
Wikia is a free-to-use site that makes money from advertising. We have a modified experience for viewers using ad blockers

Wikia is not accessible if you've made further modifications. Remove the custom ad blocker rule(s) and the page will load as expected.