Escape To Talent And Power Island
is the 18th episode overall of
Elite ANT Force
.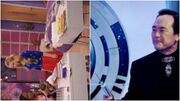 Plot
The Elite ANT Force members, new superhero kids, and array of prodigies are just settling in after Gao-Krane has had a brief disappearance. Suddenly, the evil villain returns, knocks out the team members, and brainwashes Bridget into revealing her secrets. The entire academy teams up to rescue Bridget, and stop Gao-Krane once and for all. However, a violent storm and some staff member mix-ups prevent them from accomplishing their journey.
Cast 
Main Cast 
Jake Short as Oliver and Fletcher Quimby
China Anne McClain as Chyna Parks
Bradley Steven Perry as Kaz Duncan
Sierra McCormick as Olive Doyle
Paris Berelc as Skylar Storm
Kelli Berglund as Bree Davenport
William Brent as Chase Davenport
Aedin Mincks as Angus Chestnut (Also starring credit)
Recurring Cast 
Hal Sparks as Donald Davenport
Chase McFly as Jesse McFly
Ariel Winter as Tina Figgenbottom
Claire Engler as Violet Engler
Unknown as the ANTs
Unknown as the superhero kids
Jamie Denbo as Mr. Terror
Maile Flanagan as Terry Perry
Stefanie Scott as Lexi Reed
Ping Wu as Gao-Krane

Graham Shiels as the voice of Victor Krane
Trivia
The reason that the universe was not destroyed after Memory Wipes erased the events of this episode can likely be supported by The Ricardo-Krane paradox theory.
Because there are so many, the actors playing the ANTs and superhero kids are not credited.