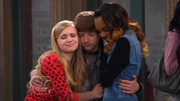 Double Trouble is the 2nd episode of Elite ANT Force.
Plot
When Fletcher returns, Chyna and Olive have a difficult time hiding him from Oliver. Meanwhile, Skylar comes up with a brilliant idea: an Elite ANT Force combining bionic heroes, superheroes, and talented kids.
Main Cast
Jake Short as Oliver Quimby and Fletcher Quimby 
China Anne McClain as Chyna Parks
Bradley Steven Perry as Kaz Duncan
Sierra McCormick as Olive Doyle
Kelli Berglund as Bree Davenport
Recurring Cast 
Aedin Mincks as Angus Chestnut
Dominic Burgess as Zoltan Grundy
Stefanie Scott as Lexi Reed (cameo)
Trivia
This episode was reviewed as "Crazy and Cool" when viewers saw the two Jake Shorts, one slightly slouching with a bowl toupee on, the other standing up straight with natural, but gelled-up, hair. In an interview, Jake Short revealed he did this so they could be told apart. He did find it a nuisance to slouch, and only slouched when in a scene with himself so he would appear different. He also had some make-up on his face to make him look more like his puberty was just starting, for another difference. The bowl toupee was the only element of that "costume" he carried on into season 2.