Commando Commotion is the 2nd episode of season 2 of Suite Life Of Time ANTs: Elite Force Meeting World, thus, it is advertised as an episode of Suite Life Of Time ANTs And Wizards: Elite Force Meeting World. 
Plot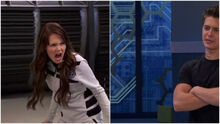 Maya and Douglas's commando apps come out when the villain the Incapacitator is having to be incapacitated. Spike is in love with Evie, and Spike has a new best friend named Doug-Dawg. The Incapacitator is questioned. And then killed, finally Fletcher and Chyna are leaving the team to go on to better things.
Ad blocker interference detected!
Wikia is a free-to-use site that makes money from advertising. We have a modified experience for viewers using ad blockers

Wikia is not accessible if you've made further modifications. Remove the custom ad blocker rule(s) and the page will load as expected.