Cameron's News
is the 11th episode overall of Elite ANT Force.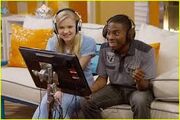 Plot
Just as Skylar and Oliver start dating, Chyna learns her brother Cameron's movie script is getting picked up. Chyna, Bree, Skylar, and Olive compete with Kaz, Oliver, Fletcher, Angus, and Jesse to to land a leading role in it.
Trivia
Ad blocker interference detected!
Wikia is a free-to-use site that makes money from advertising. We have a modified experience for viewers using ad blockers

Wikia is not accessible if you've made further modifications. Remove the custom ad blocker rule(s) and the page will load as expected.