Caldera Trouble
is the 15-16th episode of season 1 of 
Suite Life Of Time Wizards: Elite Force Meeting World
.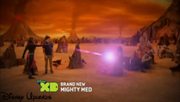 Plot
The Annihilator is back with the Eliminator and he's on Caldera. The team travels to Caldera to try to stop him.  While The Annihilator is on Caldera he managed to injure Skylar. Oliver injects himself with bionics to save everyone. Skoliver goes and adopts a baby boy from Caldera. Eric gets reelected after an amazing speech. 
Cast
Main Cast
Jake Short as Oliver Quimby/Fletcher Quimby
Selena Gomez as Alex Russo
Landry Bender as Cyd Ripley
Rowan Blanchard as Riley Matthews
Cole Sprouse as Cody Martin
Bradley Stephen Perry as Kaz Duncan
Jake T. Austin as Max Russo
Lauren Taylor as Shelby Marcus
Sabrina Carpenter as Maya Hart
Dylan Sprouse as Zack Martin
Kelli Berglund as Bree Davenport
Gus Kamp as Barry Eisenberg
Peyton Meyer as Lucas Friar
Debby Ryan as Bailey Pickett
Tyrel Jackson Williams as Leo Dooley
Ricky Garcia as Naldo Montoya
Corey Fogelmanis as Farkle Minkus
Brenda Song as London Tipton
Uriah Shelton as Josh Matthews
Paris Berelc as Skylar Storm
William Brent as Chase Davenport
Recurring Cast 
China Anne McClain as Chyna Parks
Aedin Mincks as Angus Chestnut
Sierra McCormick as The Eliminator
David Soboblov as The Annihilator
Augie Isaac as Kakai-Rata-Hee-Haw-Mwaauk-Floopy-Pa-zoing/ Jackson Quimby
Devan Leos as Hapax Gonzalez
Will Friedle as Eric Matthews
Ben Savage as Cory Matthews
Jeremy Kent Jackson as Douglas Davenport
Cozi Zuehlsdorff as Jordan Quimby 
Trivia
This is a 1 hour episode.
This is the second episode worked on by new writer Bionicforce.
Elements of this episode resemble Home Sweet Home, an EF episode, with Olive's dialogue and behavior resembling Scarlett's.
New writer Leana Wright 2009 joined the staff of this episode.
This episode marks the death of Jackson's mother and Skylar's pet Kakai-Rata-Hee-Haw-Mwuaak-Floopy-Pa-zoing. Despite Kakai never being seen again, Skylar is always very protective of Jackson.